My Child's Adult Teeth Are Coming In Behind The Baby Teeth. What Should I do?
Via Oral Answers
Rest assured, permanent teeth coming in behind baby teeth is not an emergency!
Ordinarily, as the permanent teeth push up, the roots of the baby teeth dissolve and the baby tooth eventually falls out, allowing the permanent teeth to come in. Sometimes, the baby teeth don't want to leave the mouth, and the permanent teeth come in right behind them. This condition is technically known as lingually erupting mandibular incisors and more commonly known as shark teeth or simply permanent teeth coming in behind baby teeth.
Here's a close-view of the lower jaw of a child with his permanent lower incisors coming in behind his baby incisors. The child's parent commented that hours after this picture was taken, one of the baby teeth fell out. So sometimes the body can even correct the problem on its own!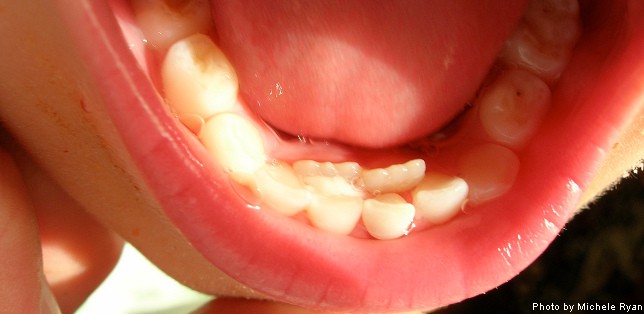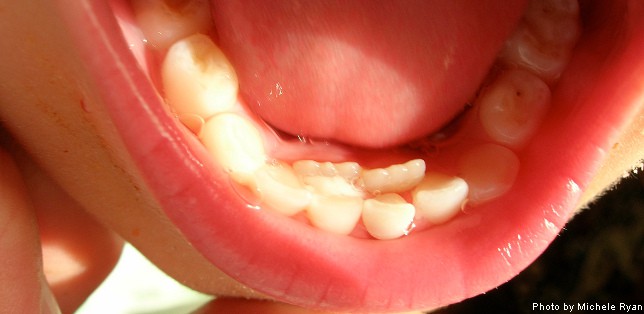 Why Permanent Teeth Grow In Behind The Baby Teeth
The book Pediatric Dentistry by Jimmy Pinkham states that "the cause of ectopic and lingually erupting incisors is not well established."
There are a few guesses as to why shark teeth occur. Some dentists believe that this occurs because the roots of the baby teeth don't get dissolved like they normally should and the permanent teeth have nowhere else to go, so they just come into the mouth where there is the least amount of resistance.
Other dentists say that the permanent teeth start growing in behind the baby teeth because there is too much crowding in the lower jaw.
Another theory says that because the permanent teeth develop behind the baby teeth, this is simply a slight deviation from normal and they just didn't make it as far forward as they should have.
I think that all of these are good explanations as to why this phenomenon occurs. I personally think that all three are possible explanations and any of them might be true for a specific individual.
How Common/Serious Is It to Have Permanent Teeth Grow In Behind The Baby Teeth?
This study by Gellin states that permanent teeth growing in behind baby teeth is a fairly common condition, occurring in about 10% of all children.
Luckily, many times shark teeth will resolve on their own with the baby teeth eventually falling out. Sometimes, they don't resolve on their own. So far, in less than a year of actually working in the clinics at dental school , I've seen two patients who are close to 20 years old that still had baby teeth in front of some of their permanent teeth.
One young woman has decided she will probably get braces because the baby tooth that hung around in her mouth caused a bit of crowding and now her teeth aren't aligned very well. Sadly, she never had this corrected when her permanent tooth first came in. Most of the time, your dentist will be able to correct shark teeth before it becomes a problem.
Here's a picture of a little boy named Evan. If you look closely, you'll see that he has two permanent teeth coming in on the bottom with two baby teeth still hanging around. His mom stated that the day after this picture was taken, Evan lost one of the teeth.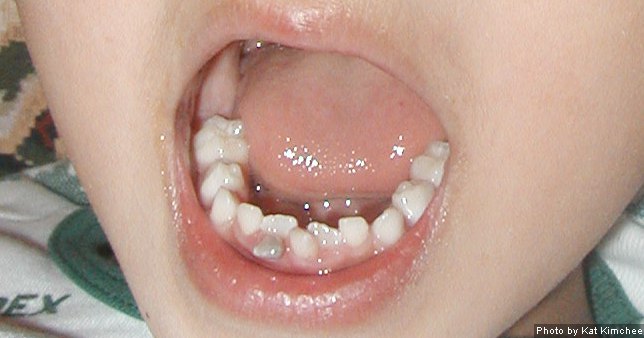 The two photos in this article show that many times, shark teeth can resolve on their own. However, if they don't, there are certain things a dentist can do to resolve the problem.
How a Dentist Can Help Manage Permanent Teeth Coming In Behind Baby Teeth
If your child's shark teeth don't resolve on their own within a couple of weeks, it would be a good idea to have your dentist take a look at what's going on. Your child's dentist will be able to remove the baby teeth from your child's mouth if needed, and this usually resolves the problem.
If the dentist has removed the baby teeth and there is still not enough room for the permanent teeth to move forward and assume their permanent position in the mouth, then your dentist may perform a procedure known as disking where the dentist slims down some of the remaining baby teeth by removing a bit of enamel from them. This procedure should allow enough room for the permanent teeth to move into their final position.
In another article on this same topic, a pediatric dentist, Dr. Dean Brandon states "Often teeth come in pairs, so if one tooth is not coming in correctly its partner on the other side won't either."
It's important to make sure that all of the teeth have enough room to come into the mouth and line up just right so that your child can have a straight smile that allows for efficient chewing.
Conclusion
Keep in mind that shark teeth really aren't abnormal. It happens to approximately 1 in 10 children. Most of the time, shark teeth will resolve without intervention (i.e. the baby tooth will fall out and the permanent tooth will assume its proper position). If they don't, your dentist can assess the situation and remove the lingering baby tooth if it is necessary.